Aluminum Fence
Increase curb appeal, add privacy, and improve your home defense with attractive custom fence installation by Blue Bird Fence Company!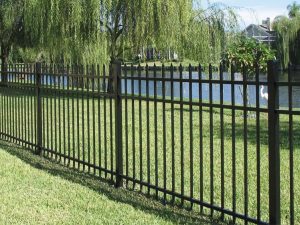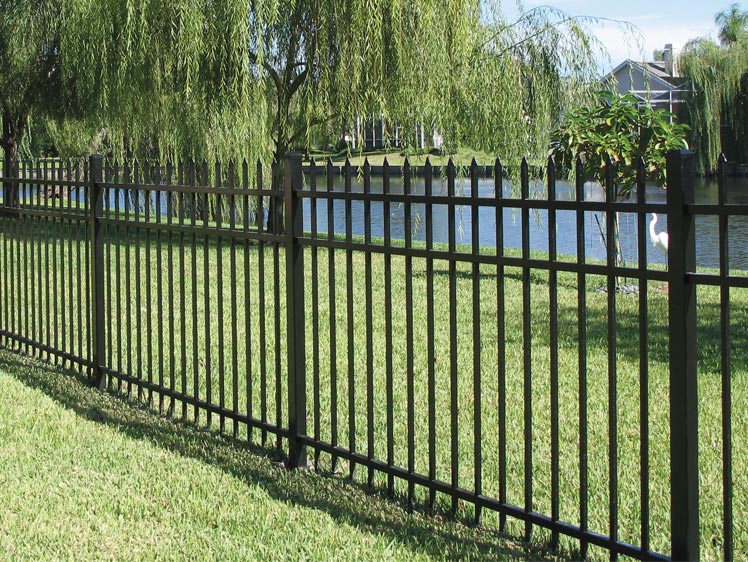 Blue Bird Fence Company has been a leading fencing solutions provider in the Indianapolis area, we can assure you that if you want to pick out the best fence, you'll need to think about what you're looking for first.
Are you looking for something low-maintenance? Are aesthetics important to you? Is your budget limited? Do you want something lightweight? If your answer to these is yes, then an aluminum fence may be the right choice.
Aluminum fences are lightweight, durable, versatile, and cost-efficient. The ones we construct here at Blue Bird Fence Company are ideal for residential, commercial, or even industrial properties. They are resistant to corrosion and rust, so they can stand against the moisture and humidity that the Indiana climate brings.
As a full-service fencing company, Blue Bird Fence Company doesn't just deliver off-the-shelf fencing elements to you, we are fully capable of customizing them to your specifications as well. They are available in many styles, designs, sizes, and even colors to perfectly complement your property's environment and add to its aesthetic value.
Call Blue Bird Fence Company at (317) 680-5702 for a Free Consultation!
Sophisticated Appeal, Affordable Price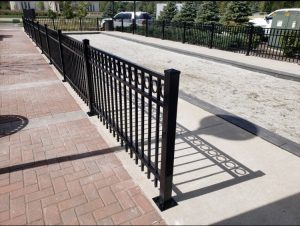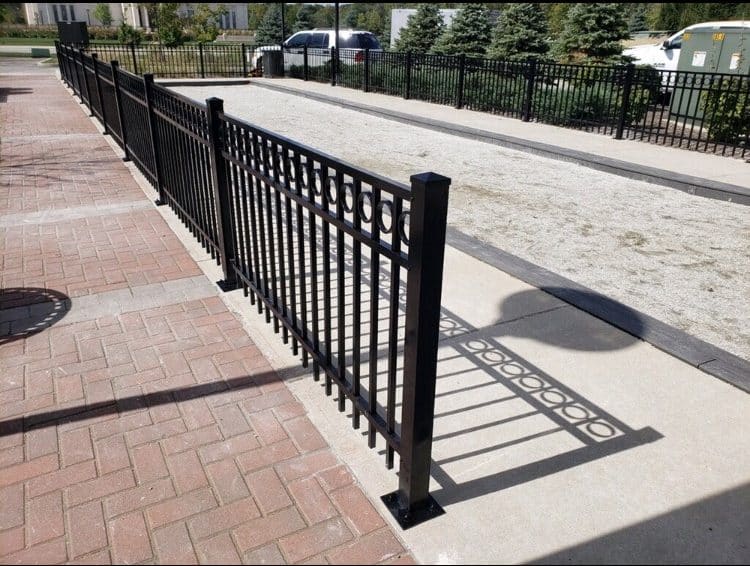 For home and business owners who want their property fenced with the regal appeal of wrought iron or the rustic charm of wood fencing, but don't quite have the funds for them, aluminum fencing is a great alternative.
Aluminum was designed to mimic iron and steel, and although it's not as rigid and robust as its more expensive counterparts, it is more commonly found, more easily manufactured, and a lot more affordably priced. Aluminum fences may not be the cheapest option out there, but because they are durable and low-maintenance, they certainly come out to be more cost-efficient in the long run.
Low-Maintenance Fences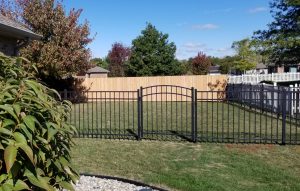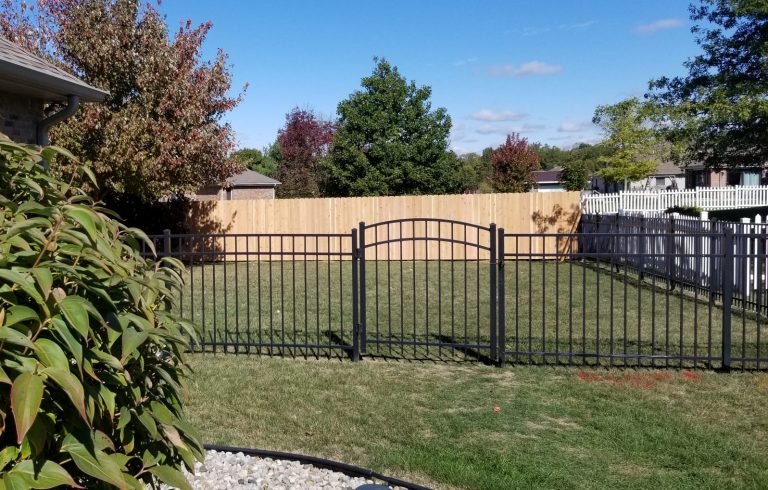 One of the most appealing features of an aluminum fence is that it requires minimal cost and effort for maintenance. Yes, aluminum could sustain scratches that would eventually need to be touched up, but that's a small price to pay for a durable fence that can last years without its integrity getting compromised. Unlike wood fences, aluminum fences by Blue Bird Fence Company are not subject to termite, bug, or rot damage. There is also never a need to repaint or restain them.
Here at Blue Bird Fence Company, we want to make sure that you get the fence you need. We see to it that all relevant factors are considered: purpose, location, climate, preference, budget, etc. We are committed to giving you the best fencing solutions that last the longest time and for the most affordable price.
Professional Fence Installation Company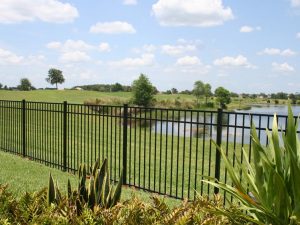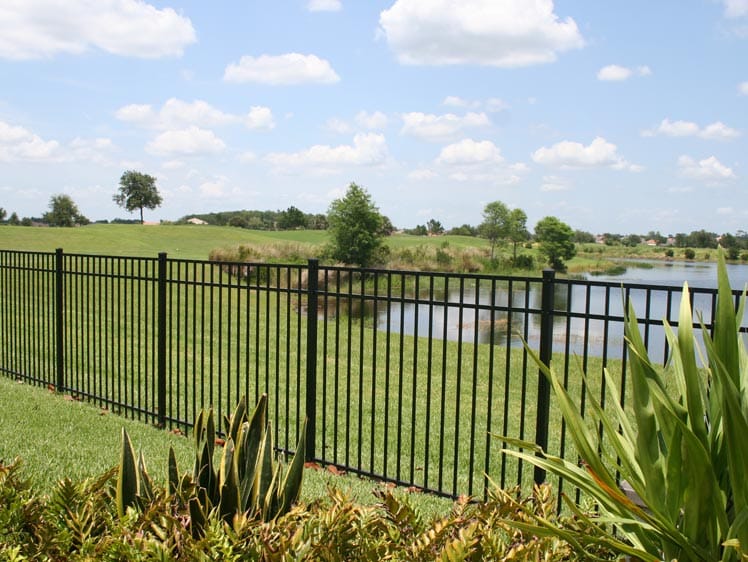 If you want to ensure that your fence is safe and secure, getting it professionally installed is a good (and inexpensive) idea.
Blue Bird Fence Company is a complete, full-service Indianapolis, IN fence company that not only provides quality materials and excellent craftsmanship, but also exceptional service and support from start to finish. At the beginning of our fence-making process, we sit down with you for a free consultation. We take careful note of your fencing needs, location, preferences, budget, and other details. We analyze these and then provide you with available options for your fencing solution. Based on your selection, our team of fence fabricators will then get to work.
If you have any questions about the necessary permits and authorizations for your aluminum fence, we can provide as much assistance as we can. Once the fence is ready for installation, we head over to your property, request for your review of the design, and finalize the placement of your fence for installation.
Here at Blue Bird Fence Company, we are passionate about giving our clients the best service, start-to-finish support, and highly reliable products, and we're excited to do all these for you.
Let's Talk Now- Free Consultation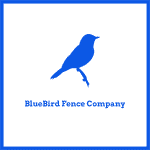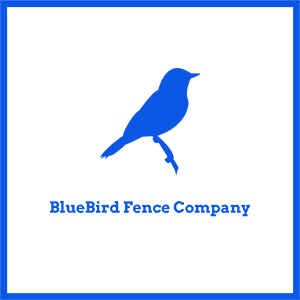 We at Blue Bird Fence Company are proud of the fact that we have been a trusted Indiana fence provider for many residents and businesses here in Indianapolis. We are proud to have given our clients' properties safety, security, and aesthetic appeal in the form of excellent quality aluminum fences.
Whether you already know the exact look and feel of your aluminum fence, or you're still looking for options, Blue Bird Fence Company is here to help you out with that. Our wide selection of aluminum fence options is ready for your perusal. Our strong team of professional fence builders are also ready to custom-craft an aluminum fence to your exact preference.
We look forward to supporting and assisting you throughout the entire fence selection and installation process!
Call Blue Bird Fence Company today at (317) 680-5702 for your Free Consultation!